We're back! 
'Tis the season for graduation, and that means more interns accepting full-time jobs. Meet Jasmina Jurišić, our new full-time employee on our Customer Service team! Along with the rest of the Customer Service crew, Jasmina is in charge of solving any problems our customers face while using our products. 
Jasmina is in her final year at the Faculty of Electrical Engineering at the University of Tuzla. Since she could remember, Jasmina has been fascinated by robots! So when it came to choosing a path in school, her obvious choice of study was Automation and Robotics. While pursuing her degree, Jasmina soon realized that it is not only robots she is fascinated with, but the idea of helping people and making processes faster, simple, and more convenient! 
Want to learn more about Jasmina? Check out this Q&A 😏
Why did you choose to do an internship at Bicom Systems?
"My story with Bicom Systems starts long before my internship! When I was in the second year of my university, Bicom Systems organized its first Hackathon. I volunteered to help, and that is where I met many of my new colleagues. I chose to do an internship at Bicom Systems because I sensed a great atmosphere in the company among employees (at the Hackathon), which I think is the key to a successful business."
Is anything different from being an intern to an employee?
"I would say the quality of the work remained the same, but it was the goal that changed. During my internship, my main goal was to get to know everyone and everything, and now my goal is to use this knowledge in the best way possible!" 
The COVID-19 outbreak forced us all to work from home. How did you manage that while being a student?  
"During the first two months, I actually enjoyed working from home! It allowed me to slow down my life a bit and helped me to focus more on studies. But now, after five months, I am starting to miss seeing my colleagues in the office. I think new employees should work in an office because then we can ask experienced colleagues for advice in person, which I think is more effective than on phone or chat. However, we all must remain positive, and hopefully, this will end soon.🙂"
Aside from WFH and the pandemic, what challenges have you come across thus far?
"There were a few challenges in the beginning, like learning about all of our products (this sounds easy but it's not, trust me haha), writing a Wiki for our new PBXware version, creating Onboarding training for new employees, etc. But the biggest challenge is talking to customers because that is when you test all your knowledge and the communication skills you gained during your internship."
Is there a particular area of the company that you would like to learn more about?
"I am interested in programming, which I did a lot during my studies. So naturally, I would love to learn more about software development!"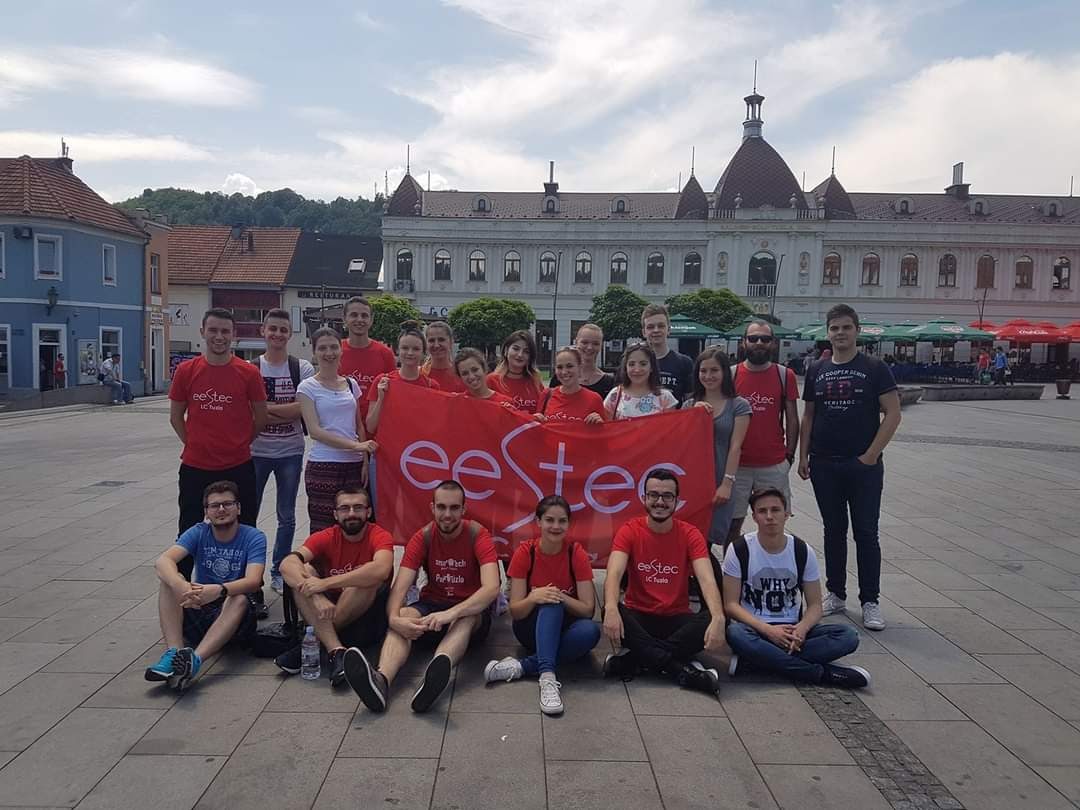 What would you say is your greatest achievement outside of work?

"I wouldn't say greatest, but my favorite achievement was being a Chairwoman at the Electrical Engineering Students' European Association Local Committee in Tuzla. Leading a team of more than 60 Electrical Engineering students was a challenging and amazing experience!"
Speaking of outside of the office, what do you like to do for fun?!
"My ideal day involves nature and swimming! Sports are my greatest passion, and I love going to the gym and running. But if I am tired and looking to relax, reading would be my go-to choice. I usually read multiple books at the same time, choosing the genres depending on my mood."

What is your personal mission statement?

"To be the best version of myself, turn complicated into simple, and learn from mine and others' mistakes."
Finally, the famous question that we ask everyone:
What would you say to future interns or people thinking of applying for an internship at Bicom Systems?

"I would say GO FOR IT! An internship is a unique experience where you get to work and learn from the best in this field while earning money 😉 Don't be afraid that you won't have time to study and that you will fail exams. Most of the interns, including me, become better students after starting an internship!"
If you want to learn more about our internship programs, check out our website, or send us an email to hr@bicomsystems.com.

Do you have any more questions for Jasmina? Or about Bicom Systems internships? Comment below!