Embracing White Label products provides a multitude of benefits, and we are ardent proponents of these solutions here at Bicom Systems. By choosing White Label, service providers gain a distinct advantage that is geared towards amplifying their growth and nurturing their brand and business.
Let's delve into the intricacies of why White Label is pivotal for service providers looking to carve a niche in the competitive telecommunications industry.
The Dilemma: To Build or Resell?
In the realm of service providers, a pertinent dilemma often arises in the absence of White Label solutions. Service providers are left with two predominant choices, each riddled with its unique set of challenges.
The first option entails the development of a proprietary platform from the ground up. While this approach promises autonomy and a bespoke solution, it comes with the steep price of investing substantial time, finances, and human resources. Building and supporting such a platform can be an arduous journey, and one that might deter many service providers.
On the flip side, the second option is to resell someone else's product. Though this might appear to be a simpler path, it significantly limits a service provider's capacity to nurture and expand their own business. By becoming a mere reseller, the service provider loses control over the product, customer relationships, and crucial branding elements, which are paramount for establishing a distinct identity in a saturated market.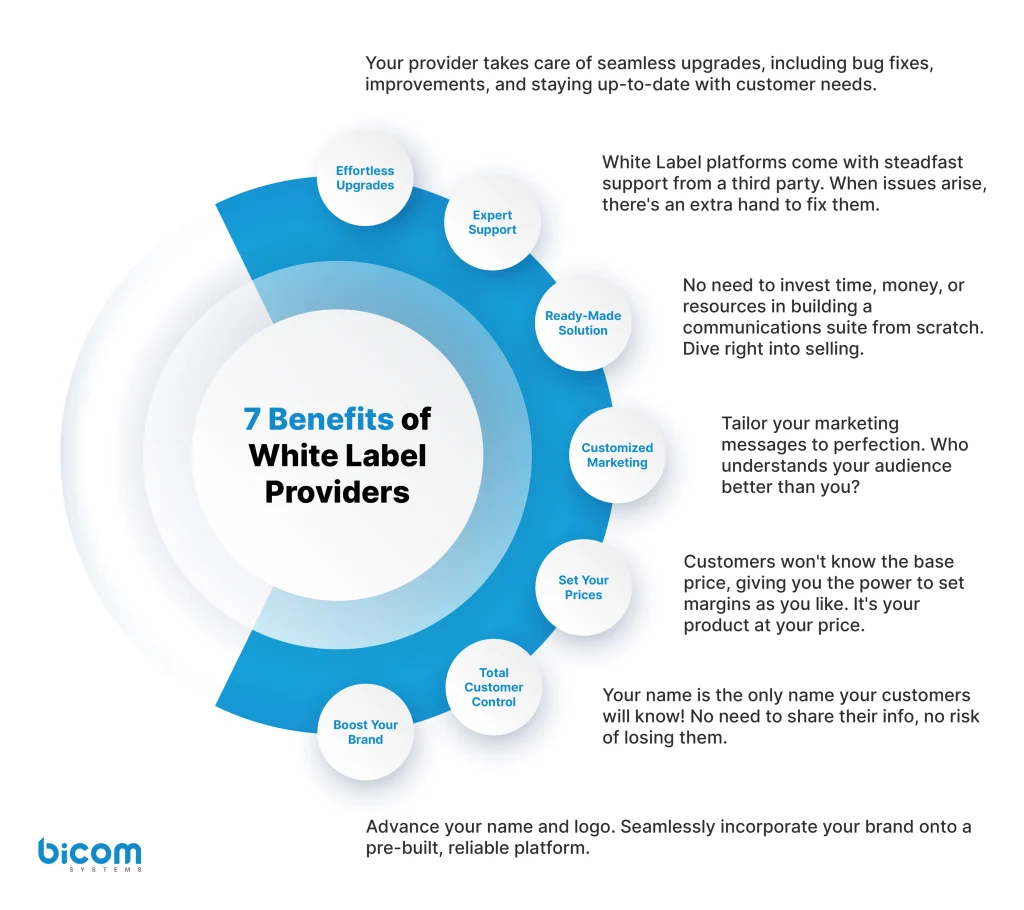 The White Label Paradigm
This is precisely where White Label solutions, such as those offered by Bicom Systems, come into play. White Label opens up the gateway to a world of opportunities, delivering the best of both realms. With White Label products, service providers gain access to a fully developed and expertly supported platform, allowing them to make an immediate market entry with minimal technical intricacies.
The standout feature of White Label products is their lack of branding, enabling service providers to sell the solution under their very own banner. In essence, White Label empowers service providers to offer their own platform without shouldering the intricate development work or the associated stress. It's a compelling proposition that beckons to those with the vision to expand their brand and business without the excessive legwork.
The White Label Benefits
The benefits of partnering with a White Label provider are nothing short of transformative. They encompass the following crucial advantages:
1. Brand Advancement
White Label products provide service providers with the opportunity to integrate their brand onto a pre-developed, robust solution. This paves the way for service providers to bask in the limelight while building a solid empire on a foundation that's time-tested and proven.
2. Customer Control
With White Label solutions, service providers retain complete control over their customers. Their brand and business become the sole entities that customers interact with, eliminating the risk of losing them to the product provider or compromising control over customer relationships.
3. Pricing Autonomy
Since customers remain oblivious to the base price, service providers are endowed with the power to set their margins according to their preferences. In the eyes of customers, it's your product at your price, affording unparalleled pricing autonomy.
4. Customized Marketing
White Label products empower service providers to not only use their brand but also tailor their marketing messages to perfection. After all, who understands the audience and prospects better than the service provider themselves?
5. A Ready-Made Product
Developing a comprehensive communications suite is a resource-intensive endeavor, necessitating copious investments of time, money, personnel, expertise, and more. Opting for a White Label solution alleviates the associated headaches, allowing service providers to dive right into selling.
6. Backed by Experts
White Label platforms are characterized by unwavering support and the backing of a third party. If unforeseen issues arise, there's another entity in the equation to rectify them, ensuring a robust support system for the service provider.
7. Seamless Upgrades
Your chosen White Label provider ensures that you receive seamless upgrades without the cumbersome legwork. This encompasses not only bug fixes and improvements but also staying at the forefront of emerging trends and technologies that your customers are bound to desire.
Guiding Your Journey
Yet, despite these remarkable benefits, we understand that some Small and Medium-sized Businesses (SMBs) may still harbor doubts. The prospect of marketing and supporting a product that isn't their own can indeed be a daunting one.
Rest assured, at Bicom Systems, we are committed to allaying those apprehensions. While the product is yours to brand and sell as you see fit, we are not invisible actors. We stand steadfast behind the scenes, offering unwavering support in the form of marketing materials, assistance with installations and upgrades, and any other requirements you may have.
Our Commitment to Your Success
We've iterated it before, and we'll continue to do so – your success is our success. At Bicom Systems, we are wholeheartedly devoted to witnessing our partners grow and thrive. It's our unwavering desire to empower you and see your brand and business prosper. Our commitment is not just a statement; it's our way of doing business.

If you're curious to explore more about Bicom Systems and the extensive array of products we offer, we cordially invite you to navigate through our comprehensive range.
---
Don't hesitate to get in touch and find out more about Bicom Systems' offers.
CONTACT US