During the month of June, 35 of our employees went through a two-day Professional Scrum Developer training. The training was presented by Bogdan Doroslovac, a certified Scrum.org trainer, with the end goal of providing our employees with the opportunity to become Profesional Scrum Developers! Want to learn more about the program? Keep reading! 
"You could not choose a better person to conduct these classes for us."
– Mahir Mehanović
What is Scrum.org?
Scrum.org is a training program that is designed to help teams and individuals solve complex problems. Aside from training, they provide resources, assessments, and certifications to those who complete their training. Founded in 2009, this global organization is dedicated to improving the profession of software delivery through Scrum. Learn more about Scrum.org here.
Why Scrum.org?
Two companies uphold industry standards when it comes to training in Scrum. One of them being Scrum.org. Bicom Systems used Scrum.org in the past for our Nexus team, and had such success that we decided to contact them again!
"Interactive and fun training where we learned not only about Scrum, but we also learned how to be better Engineers!"
– Kenan Hadžihasanović
Not only is Scrum.org a reputable organization that offers training all around the world, but it is recognized by institutions, universities, and industry leaders. As per Scrum.org, the Scrum training is "focused on improving professionalism in complex product delivery and that drives everything we do."   
As a part of our new BiAgile Weeks, improving professionalism and developing an agile framework are goals we are working towards. 
"The strong focus on creating cross-functional and self-organized teams is hugely beneficial for development teams across organizations."
– Haris Arnautović

How did the training work?
This is the first kind of training we provided for our development teams in the organization. Our previous work with Scrum.org was Scaled Professional Scrum training for Scrum Masters and Product Owners. As mentioned earlier, it was so successful that it encouraged us to provide the necessary training to the members on our development team. 
Since we had a large group of employees, we decided it would be best to divide the developers into two groups. Group one had training from June 10 – 12, and the training for group two was from June 15 – 17. 
"This training is a must for all development team members."
– Semir Omerović
The training was held in our Tuzla office by a certified Scrum.org trainer, Bogdan Doroslovac. In light of the current pandemic, the participants maintained social distancing measures and wore protective masks.
After the training session, each participant then had the opportunity to take the Professional Scrum Developer I Certification Exam. The exam was online, and they were allowed one hour to answer 80 questions. To pass and become certified, the participants must receive an 85% or higher on the exam.  
"As a Scrum Master who has experience as a developer, I think the training hits many of the right spots when it comes to building a craftsman attitude towards software development."
– Haris Selmanović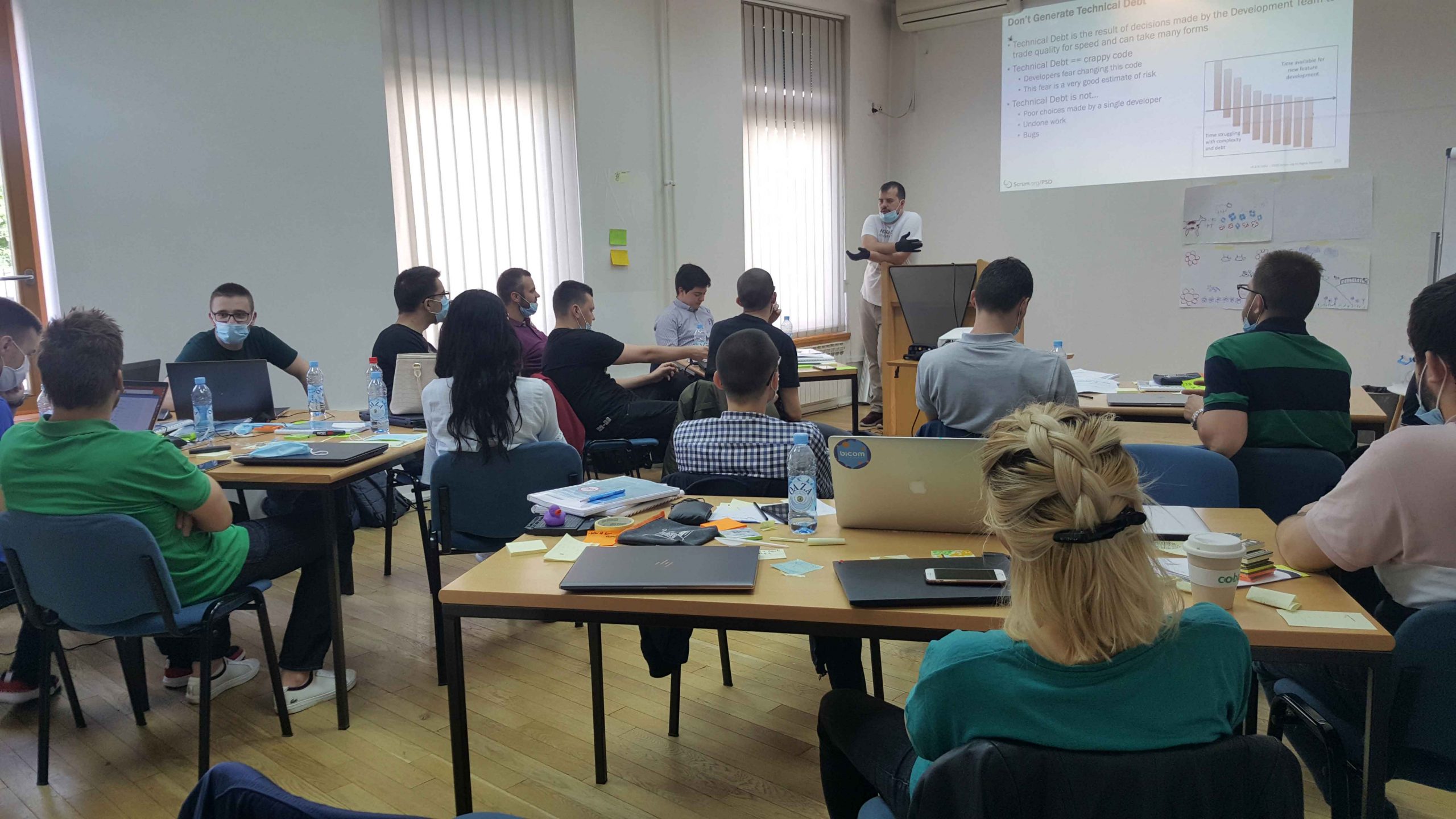 What does it mean to become Scrum certified?
These assessments cover a range of areas related to the knowledge and real-world usage of Scrum. Passing such a credible and consistent evaluation means you are highly regarded among other industry associates as a true industry certified individual or organization.
But the path to certification is even more important than the certification itself! The training is built for developers to understand their role in Scrum, and how their knowledge, ideas, and practices can elevate it. Successful implementation of Scrum requires understanding and collaboration on all levels of the company. The implementation must be adapted to fit the organization's context, and there are no better people to help with that than the developers themselves. 
"The methodology and practice used to present the groundwork of Scrum convey my personal growth and professional development, which will greatly benefit my career."
– Anela Huremović-Bošnjaković
Shout out to all our employees who participate in the Scrum training and congratulations to all that passed! 😀
| | |
| --- | --- |
| GROUP #1 | GROUP #2  |
| Semir Karic | Merima Bulic |
| Semir Omerovic | Adnan Dizdarevic |
| Elvis Oric | Admir Begtasagic |
| Armin Omanovic | Zurahid Omeragic |
| Nenad Ristic | Anela Huremovic-Bosnjakovic |
| Ermin Katardzic | Ivan Sovic |
| Haris Selmanovic | Anida Omercic |
| Mahir Mehanovic | Adnan Busuladzic |
| Jasmina Dzevlan Arnautalic | Tarik Fazlic |
| Tarik Omercehajic | Emir Aganovic |
| Ajnur Jukan | Damir Begic |
| Lejla Hodzic | Selma Sejdinovic |
| Irnes Mujkanovic | Mirza Dedic |
| Asmir Selimovic | Nermin Hasic |
| Kenan Hadzihasanovic | Elvis Junuzovic |
| Mirsad Ribic | Haris Arnautovic |
| Damir Smigalovic | Mirza Omerkic |
| Adnan Puskarevic | – |
| | |
Learn more about the careers at Bicom Systems by visiting our website or sending our HR team and email to hr@bicomsystems.com.