Not only did Adi Mahmutovic recently become an official employee of Bicom Systems, but he is also a huge Stranger Things fan. So, the only logical thing to do was to publish his story as case number eleven! (where are my Stranger Things fans at?!😂) 
Adi is our Graphic Designer based out of the upside-down our Tuzla office. He recently graduated from the University of Tuzla with a bachelor of Mathematics from the Faculty of Natural Sciences. Math wasn't exactly the first choice that came to Adi's mind when choosing his path of studies. But Graphic Design allows him to express his love for art as well as utilize his skills in mathematics.

Keep reading to get to know Adi better! He shares where he finds inspiration, how he got his foot in the world of Graphic Design and lends incredible advice for future interns. 
What has your journey been like joining the Bicom Systems family?
"I find my road to getting a job here at Bicom Systems to be an interesting and fun one! In my second year of university, I joined a European Students' association called 'eeStec.' 
My primary reason for joining was to get my foot in the world of Graphics Design (I led the Design Team at the local committee of Tuzla for some time), and to improve on my social and soft skills by organizing and volunteering at certain events. One of those events just happened to be the first Bicom Systems Hackathon! 
After volunteering at the event, I was contacted for an internship position. I believe the reader can leave the rest up to their imagination and fill in the rest of the details as to how I got here, haha!" 
You also worked on this year's Bicom Systems Hackathon, right?
"Yes! My main projects have been the last two Hackathons. I came up with the ideas for the logos and the rest of the promotional and graphical material. It has been a great way for me to express my ideas for what the entire event should look like and what kind of feeling they should resonate with."
Can you tell us what kind of projects you are working on now?
"My primary project at the moment is to learn about the products we ship out. Other than that, I'm working with our Marketing department in Canada on ideas for improving our social media output." 
What project have you been most proud of thus far?
"Honestly, coming up with this year's Hackathon logo is something I'm immensely proud of and can't wait to see it again come next year! Maybe with some upgrades, stay tuned."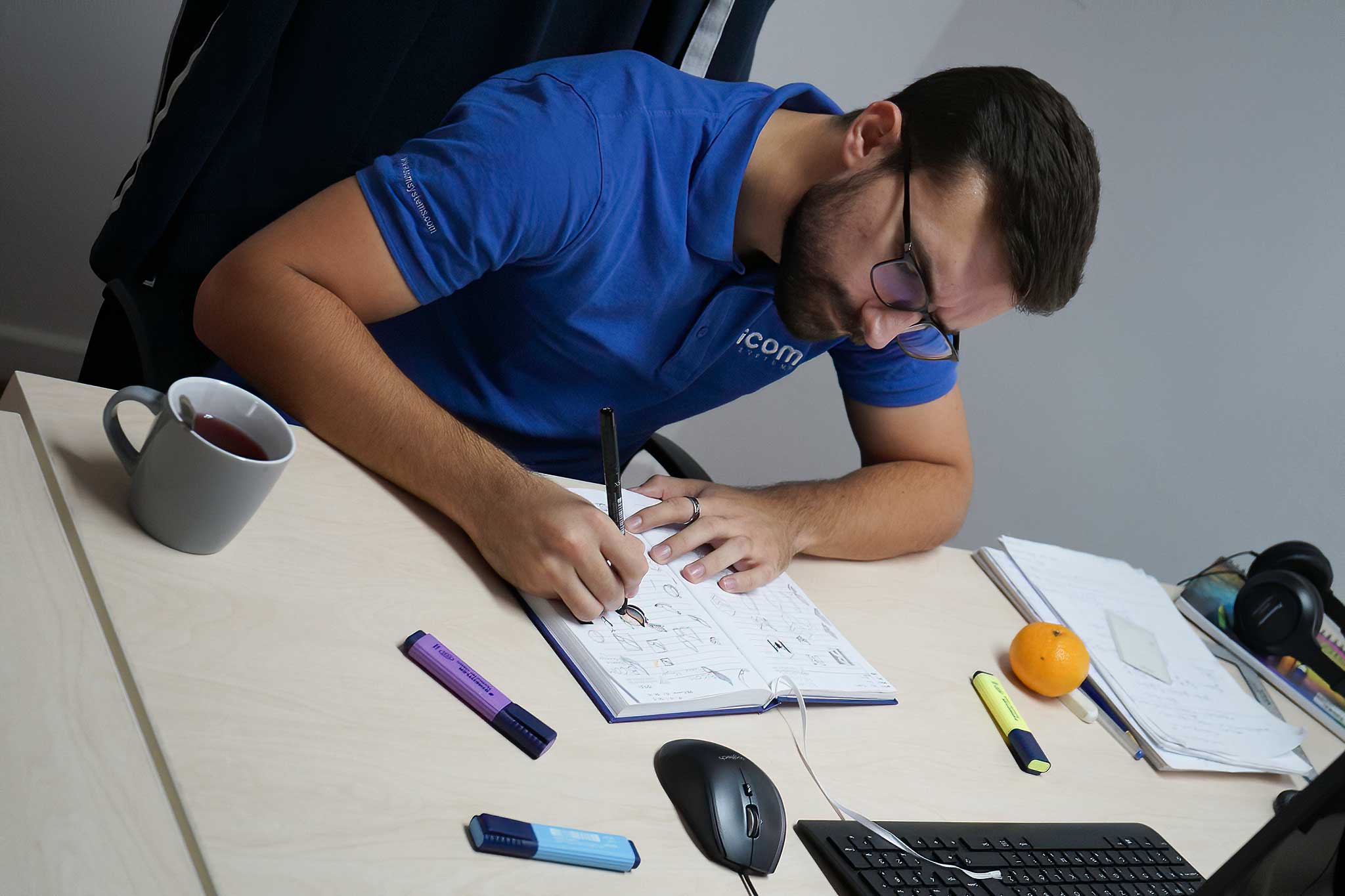 Do you have any hobbies?
"
Ahh, finally my greatest passion!  Drawing!"
"For as long as I remember, I've always drawn something. As a kid, I loved the world of dinosaurs, so everyone had to bear with me as I spilled out major ideas for books about them."
"Then came the time when I was obsessed with Japanese anime! I spent hours drawing characters from various anime. Finally, I'm at a place where I love doing character and anatomical studies, mapping out ideas for certain stories I'd like to have told someday."
Describe what a typical day looks like for you.
"I try to make my ordinary days not so ordinary…well, besides making that first cup of coffee, most of us are used to haha. I spend a lot of my time learning and searching for artistic inspiration. You'd be surprised by the things I find inspiration from! One can find an interesting idea in places they would least expect."
How do you find inspiration?
"As I mentioned before, I find inspiration from art found in various places, so I try to mix my sources up. From standard and up-to-date business-related design sources like dribbble, Medium, and the Futur to purely artistic communities such as ArtStation and Muddy Colors." 
Outside of work, how do you like to spend your free time?

"What is this thing called "free time"? Just kidding, I know of this precious mineral.
I love spending time with my girlfriend. We are always coming up with ideas of how to spend our time or where to go on a road trip I like going to the movies, reading books and my friends find a dear place in my life as well."

What is your favorite quote?
"Right now, my girlfriend and I are currently in the process of watching the extended version of the Lord of the Rings trilogy, as Tolkien (and Peter Jackson) has set up one of the greatest adventures this world has seen to this day, and it's here to stay! So I would have to say…"
"The wide world is all about you: you can fence yourselves in, but you cannot forever fence it out." – J. R. R. Tolkien
What would you say to future interns or people thinking of applying for an internship?
"There's nothing to think about here. An internship is a must in my personal opinion. I believe the experience alone is worth it all, just the fact that you get to learn from people who are seasoned experts in their respective fields is beyond anything you'd get from learning all those hard skills on your faculties and colleges!"
"Also, you'll be spending time with people who share the same interests as you do. You'll be improving your social circle, and you never know how any of these points can pay off. That's what I have to say to aspiring programmers."
"Regarding people from my field of work, the designers and artistic souls out there…get out of your comfort zones! Volunteer! Apply! Work with people, take in the world around you, the experiences, and pour them out into your designs and work. Fulfill your life creatively and pursue your passions!"
If you want to learn more about our internship programs, check out our website, or send us an email to hr@bicomsystems.com. 
Do you have any more questions for Adi? Or about Bicom Systems internships? Comment below!