"How long is this going to take?"
A question we always get when there is unexpected downtime or maintenance needed on our infrastructure. And the answer is, well… complicated. Although the question is extremely valid because no one likes downtime, it can be time-consuming checking multiple tickets for the same issue. Not to mention giving the correct, exact amount of time.  
On that note, we believe we may have found the solution to this problem! Let me introduce you to the new Bicom Systems Hosted Status Page. The home for real-time information regarding service alerts and interruption notes. 
Status Page allows our team to communicate incidents, scheduled maintenance, and downtime in real-time with our partners. We wanted to give our partners a space to go when they face an issue and meet them with an answer before they ask the question. It is essential to our team that we communicate transparently and build trust with our partners. 
The Efficiency of Trouble Shooting
The Status Page is a new approach to troubleshooting more efficiently. It is a quick and easy way to communicate incidents, and we urge our partners to check the status page before filing a ticket the next time something goes wrong. The issue may already be logged, and our team is currently working on it! We are also trying to cut down on the number of support tickets and excessive emails.
Our partners can subscribe to the status page via email or through the RSS feed for updates. The page will notify subscribers of the current status of operations and outline the response time. Under the 'Components Section,' visitors can see which components are experiencing the problem, and the colour status of the components will change as necessary. 
GREEN – All Systems Operational
ORANGE – Degraded Performances/Partial Outage
RED – Major Outage
GREY – Under Maintenance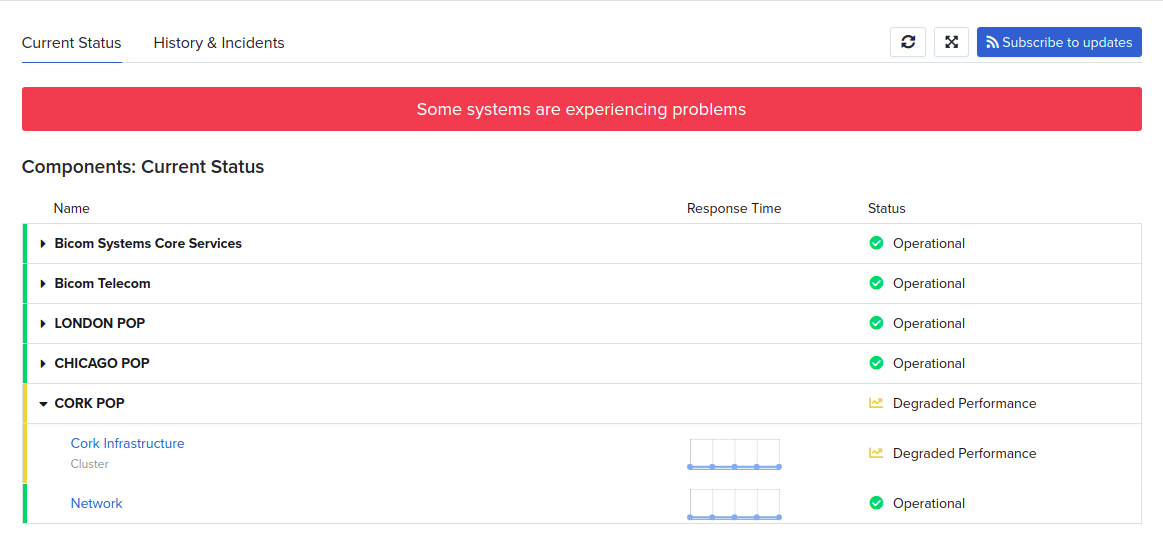 Each component links with a 'check,' and if an outage occurs, the check will transfer to a "DOWN" status. The element connected to the check is set to automatically change to 'Degraded Performance' when the check fails. All of this happens on the Status page without human input! 
To better understand the idea behind the Status Page, I reached out to our Hosting Coordinator, Selma Sejdinovic. 
Q: When did you realize the 'need' for a status page?
"For some time, we have been thinking 'how can we be better, faster and more efficient when communicating incidents and downtimes to our partners?' During our last outage we realized that we needed something! We started doing research and our team found that a Status Page would be perfect." 
Q: How long did it take to turn Bicom Systems Status Page from an idea into reality?
"Most of the work was research because we wanted to have a 'clear' page that would be easy to understand and where we could include all components that might be important to our partners. After we agreed on a Status Page, it took approximately thirty days for the project to be implemented. The GUI is extremely user-friendly, so designing the page did not take a lot of time!"
Q: And what is your end goal with the Status Page? 
"Well, the primary purpose of the page is to notify partners when there are issues with our infrastructure and to update them accordingly. It will be used as a mass communication tool to post updates about ongoing situations in real-time, scheduled maintenance events or when an interruption in service occurs. 
This type of real-time communication during incidents should reduce user frustration, so our end goals are ultimately to: 
Increase Customer Experience Satisfaction

Show Transparency

Build Trust with Customers

Reduce the Number of Incoming Support Requests 
Q: Explain how the new Bicom Systems Status Page will help our Partners.
"The Status Page will help our partners because we will publicly display our services status and global uptime. As a result, we believe that our Partners will develop more trust in our hosting infrastructure. Current and potential partners can see how reliable our platform is and subscribe for email notifications in real-time! All in all, reducing the amount of customer support queries." 
Q: And in turn, will it help the support team?  
"Yes! Publishing the incident report, informing users about the actions we are taking, and providing an estimated time to solve the issue will keep our partners aware of the situation. Therefore, it will prevent an overflow of support requests and repeated questions. The status page will significantly cut back on the number of back and forth emails." 
Thanks to the Status Page, users are kept in the loop from the 'investigating' stage right through until 'resolved.' Check out the Bicom Systems Status Page for yourself by visiting https://status.bicomsystems.com. 
New here? Let's Connect!
📞 +1 (647) 313 1515
📧 sales@bicomsystems.com
💻 www.bicomsystems.com/contact-us