Fast deployment of PBXware in the increasing needs of next-generation communication systems has made it our best-selling product. Since the beginning of the 2000s, PBXware has deployed flexible, scalable, and reliable VoIP systems to telecommunications service providers.
PBXware is the world's first and most mature IP PBX open standards platform for telephony. Carrying this legacy, our competent engineers released 6.5 versions of PBXware with many new improvements and enhancements.
Here's what's new in PBXware 6.5 release. 
Enhanced Ring Groups & Renamed Ring Groups
A ring group represents the groups of extensions that will ring when there's a call to the group. Several ring strategies can be used in ring groups – ringing all extensions in one group or ringing one extension after another. PBXware 6.5 has provided enhanced ring groups (ERG), which are more advanced types of ring groups. 
With ERG, users can now set up basic queueing functions and reuse Queues with Members to achieve better business intelligence. ERG represents a basic version of a Queue that allows users to put an Extension into it, enabling users to have their mobile devices within that ERG. Now PBXware users can use different ringing strategies with more devices more easily.
How can I use this feature?
Within the Enhanced Ring Groups menu, select the Add Enhanced Ring Group option where you can add ERG members (extensions). Then select a ring strategy, define ERG operation times and enable wake-up mobile devices so that they can work within the feature. You can also enable other settings such as timers for call answering, destinations for redirecting calls in case no member is available to accept one, etc.
Also, we renamed our Ring Groups to Dial Groups in the 6.5 release. The 'Ring Groups' section from the 'Extension' menu is now moved to the main menu, and it contains two segments: 'Dial Groups' and 'Enhanced Ring Groups (ERG)'.
Value & Benefit: Achieving better business intelligence and in-depth reporting of basic queues is now more manageable across all editions of PBXware (Multi-Tenant, Contact Centar, and Business). Thanks to the ERG, PBXware users can fully enjoy their benefits:
The simplicity of usage.

Better reporting across all editions of PBXware.

Having mobile devices within Enhanced Ring Groups.

No additional costs.

Enabling customers with a simpler version of Contact Center they needed in other PBXware editions so that they don't have to buy Contact Center licenses which are more feature-rich and complex. The complete approach is simpler so our customers can

 achieve just better in-depth reporting of basic queues.
Redesign of Advanced Supervisor Panel
We had an outdated Supervisor Panel design and this is why we decided to revamp it for the 6.5 release. The previous GUI wasn't customizable, so Supervisor did not have options to choose what tabs to see on the panel (e.x. particular information and statistics). Another problem that has arisen from the usage of the previous GUI is that some information was harder to reach. Finally, there were a lot of performance issues, especially for customers with a large number of agents. 
Here's in detail what's new from redesigned Advanced Supervisor Panel:
Advanced and improved UI/UX design of the Supervisor Panel;

Advanced Global Real-Time Statistics;

'Search' option inside the Supervisor Panel GUI (search available for Agents, Queues, or Campaigns);

Redesigned and fully customizable tabs inside the Supervisor Panel;

Redesigned and improved Alerts tab.
Value & Benefit: On top of simplicity and flexibility, we are now providing a more quality customer experience with improved UI/UX design. Redesigned GUI is giving Contact Center users the option to customize tabs and statistics according to their preferences.
Creation of customized view for better accessibility and performance.

Supervisors can now monitor only those tabs/statistics that are important to them and align the names of these metrics/tabs.

Quick access to key information thanks to the 'Search' option inside the Supervisor Panel GUI.

Overall better app performance.

More efficient Contact Centar Management with Global Real-Time Statistics.

Additional statistics that weren't available before the 6.5 release for detailed monitoring in Contact Center. 
BSSUP Service in PBXware 6.5
BSSUP Service enables users to open/close the SSH access. To enable Support Access, PBXware users can navigate to the 'Support Access' page on 'Setup Wizard' to enable Support Access. They can set the timeout, after which the SSH access closes automatically. The minimum timeout that can be set is one hour, and the maximum timeout is one week. 
Value & Benefit: The main goal here is to have secure and undisturbed (no need for passwords or other methods of authentication) SSH access to the client's machines, but only when a client requests it. Only clients have an option to open SSH access and also specify for how long it will stay open. In any case of necessity, PBXware users can read detailed information about logins or when the access has been opened or closed. 
ClickHouse Database – Now Available on All Editions in PBXware 6.5
Since the 6.5 release, ClickHouse Database has been available on all editions of PBXware, including Multi-Tenant and Business Edition. The Database has been available on the Contact Center edition since the 6.0 release. Now PBXware users can access ClickHouse Database no matter which PBXware edition they are using. Expanding Clickhouse Database on all PBXware editions ensures faster access and performance.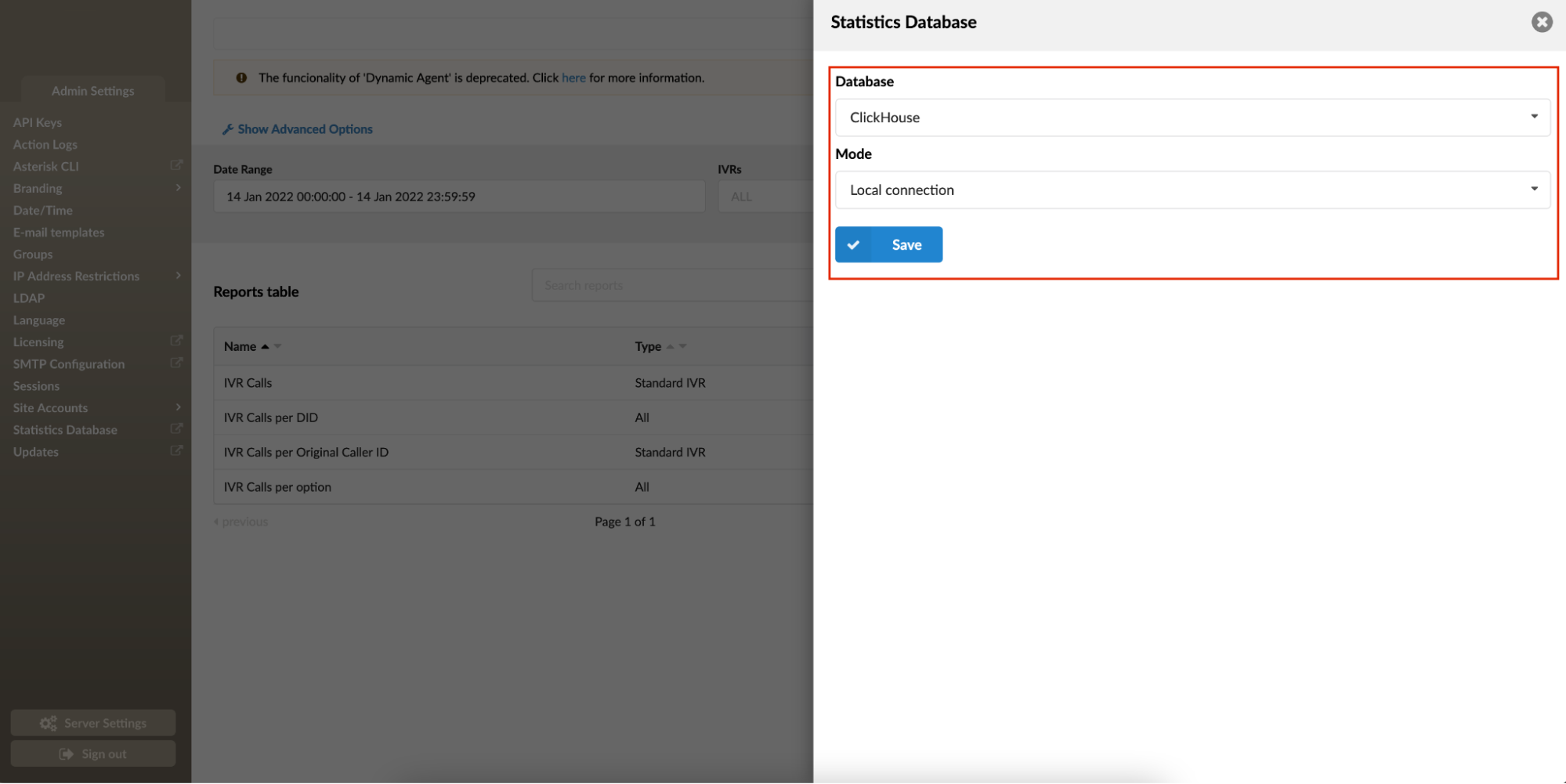 SMS Provider: Twilio 
Twilio is a cloud communications platform that allows software developers to make and receive phone calls programmatically, send and receive text messages, and perform other communication functions using its web service APIs.
The SMS feature available on PBXware 6.5 allows users to select Twilio as a provider in their configuration to utilize the messaging service fully. A user should follow several steps to set up Twilio on PBXware successfully. 
Value & Benefit: According to G2, the click-through rate in SMS messages is 36%. Many sales and marketing strategies use this technology globally. During the previous PBXware releases, we integrated Telnyx and Bandwidth as SMS providers in the US. By integrating Twilio, we covered all of our partners who are doing business in the European markets. The platform is GDPR compliant.
Central PhoneBook Support in gloCOM Web Available to PBXware Administrators
The Central Phone Book is a centralized list of contacts managed by the PBXware Administrator. After the 6.5 release, it is accessible to all gloCOM Web users. 
How can I use this feature? Select the Central Phone Book Book option from the drop-down menu above the contact list to access your Central Phone Book contacts. Besides contacts managed by the administrator, each user can manage their personal list of contacts.
Value & Benefit: After the 6.5 release for gloCOM Web, users can see all their Personal Phone Book contacts, add new contacts, import/export contacts, or download a CSV template. Managing the contacts from the central phone book has never been more accessible from gloCOM Web GUI. Any modifications made can be synchronized directly too.
Honorable Mention: gloCOM Web + Meeting Integration in 6.5 release
We already covered what's new in gloCOM & gloCOM GO 6.5 release. 
How is this all connected? Many of our customers use PBXware alongside our client applications, gloCOM, and gloCOM Meeting. gloCOM Web is a web application of our all-in-one business communication solution. gloCOM Meeting module is a video conferencing module. Finally, the 6.5 release has brought out even more advanced integration between the Bicom Systems' software products, gloCOM Web, and gloCOM Meeting.
Since the 6.5 release, we completely integrated gloCOM Meeting and gloCOM Web. You can start an instant meeting, schedule a meeting, or join an existing meeting via gloCOM Web GUI.
Beyond the PBXware 6.5 release
Choosing the correct edition of PBXware for your organization can be pretty challenging. PBXware is a complex product that offers many features and benefits. PBXware includes seamless integration with CRMs such as Salesforce, Zendesk, MS Dynamics, etc.
PBXware also offers white-labeling options which can elevate your brand.
Read more about PBXware 6.5 release in detail by choosing PBXware 6.5 from the drop-down menu in our Downloads section.
UCaaS market is still rapidly growing, and if you are considering purchasing high-quality software solutions tailored to the telecom service you are providing, don't hesitate to reach out.