Bicom Systems' development has been working tirelessly to deliver all of the new and exciting features for the 6.5 beta release. No matter which challenges we face in the UCaaS industry – from the necessity of fast deployment or upping the remote work – we always consider feedback from our partners. Our Partners are looking for concrete solutions to solve real-world problems since they are the ones who are selling the VoIP to the end-users in various industries. 
And this is what our development team always keeps in mind. Here are the new features and benefits from gloCOM & gloCOM GO 6.5 release. 
New in gloCOM 6.5: QR code for easy sign-up via gloCOM apps 
Seamless communication between all devices is a focus of gloCOM software development. gloCOM software has both mobile and desktop applications. We're always exploring alternatives to elevate unified communications further. During the 6.5 release, we added the option to show a QR code for quick sign-in via mobile applications. 
🤳How does this work? The gloCOM desktop application generates a QR code. You can access it by clicking on the Help menu or the three dots menu within gloCOM Desktop main window. After you generate the code via desktop, you can sign in much faster via QR code on gloCOM GO since you don't have to enter your login data manually. While signing in via the gloCOM GO mobile app, you can choose the option 'Scan QR code,' and you are signed in seconds.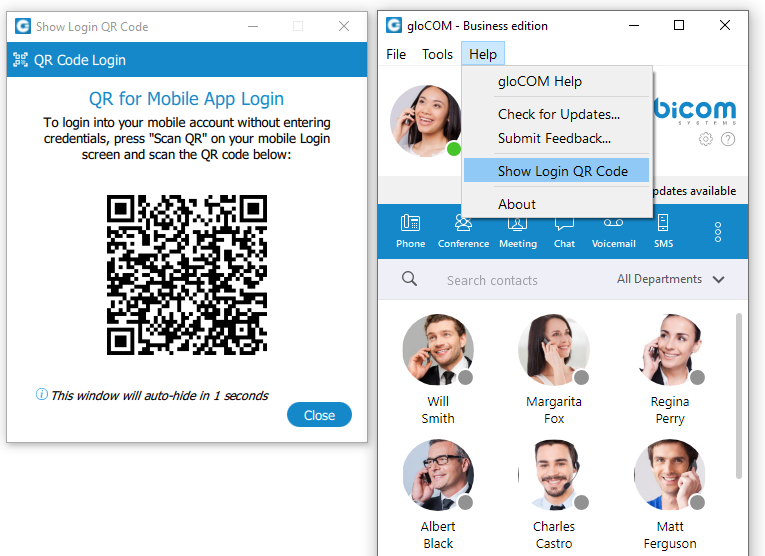 Value & Benefit: According to the relevant industry resources available on G2, bring your own device (BYOD) is a pinnacle of the new-normal transformation alongside both remote and hybrid work. Many resellers face challenges regarding revenue operations and are looking for various solutions to minimize hardware costs. That is why the UCaaS market has increased exponentially and will continue to grow up to 2050 (and possibly afterward).  
Client applications such as business communication software will continue to improve the overall quality of user experience, including further integration of many features and devices. The development of business communication software such as gloCOM keeps up with the challenging times and will continue to do it. 
Waveforms in Voicemail and Superior Voice Quality 
VoIP solutions are known in the telecommunications industry for their superior voice quality. During the gloCOM 6.5 beta release, we added echo cancellation for softphones, opus codec support for enhancing voice quality, and one additional feature – waveforms in voice mails. Delivering top-notch voice quality is always our number one priority. That is perhaps most obvious when it comes to the usage of desk phones, but we are looking for new ways to improve the sound quality on softphones as well, which is clear from the priorities in our 6.5 release. 
Regarding the waveforms, it seems like our colleagues from WhatsApp were developing very similar features to ours simultaneously, and you can read their announcement from March 2022. 
New Integration: Kuando Busylight + gloCOM
Boosting team productivity in challenging times became the top priority of management in various industries. Online indicator of status presence is one of many tools that can help you to eliminate distractions for your team. That is why we decided to integrate Kuando Busylight in gloCOM 6.5. 
How does this work? To start using Busylight integration, click on the Settings icon placed on the right side of the main window just above the blue bar, navigate to the Busylight section, and check the Enable Busylight integration option. gloCOM users can change the Presence status color for each status per their wish. 
Value & Benefit: With gloCOM and Kuando Busylight integrated, there is no need to worry about awkward moments with coworkers or clients. Your status presence will be clearly visible to anyone near your desk. 
Pasting Images Directly from Clipboard to Chat 
Everyday communication with your team sometimes includes fast sharing of many files and images. gloCOM 6.5 clipboard now consists of all the functionalities necessary for pasting files and images directly into the chat. You can use the clipboard for copying/pasting images from the external app (such as an image viewer or any browsers). Copying and pasting images and files can also be done directly into the chat session from the File Explorer (Finder on macOS). 
Value & Benefit: gloCOM users are no longer limited to just using an image/file picker and drag & drop feature for sending images and files. Instead of sending images immediately after pasting them into the chat, gloCOM creates an attachment list that includes thumbnails within the selected chat session.
Adding files to the attachment list

while using the clipboard can be done in two ways:

Using CTRL(Cmd on macOS) + C/V for copying/pasting files or

Using the mouse right-clicking to copy/paste files.
Reply to a Specific Chat Message in gloCOM & gloCOM GO 6.5
We covered some of the exciting features and benefits in gloCOM 6.5, focusing primarily on the desktop app. Now we will cover some features of the gloCOM GO mobile app. Reply to a specific chat message was a highly anticipated feature that we developed on all gloCOM applications: desktop, mobile, and web.
Revamped Dashboard and Dark Mode Theme for gloCOM GO 6.5 
Following the latest industry trends, we have implemented the dark theme on gloCOM Web and gloCOM GO. We completely redesigned the dashboard of gloCOM GO to make it more user-friendly and even more modern. The new Dashboard design contains modules for easy access to Profile info, today's calls stats, Recent calls, Call options & Voicemail, Favorites, and Quick actions.
Furthermore, we implemented dark mode support for our dark mode theme. If anything goes in some undesirable direction, we got your back. Important: Dark Mode will follow the system options (if Dark Mode is selected in the device system).
Conclusion
Following the latest UCaaS industry trends and market research seems like a neverending co-dependent relationship between the end-users, engineers, and managers. More and more vendors and resellers face difficulties in growing their UCaaS business. Find out how gloCOM as a business communication software can be altered to your growing business needs and read more about the 6.5 release in our official release notes and changelogs.